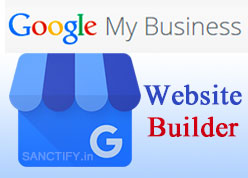 Google launched Website Builder for Small Businesses
Posted by sanctifygoa in Digital Marketing, Google, Sanctify News
28
Jun
2017

Google has officially launched a single-page website builder for small businesses on 13th June 2017. Google Website Builder is a free tool and available to all businesses which are marked as verified business on Google Map.
According to Google, 60% of small businesses worldwide do not have their own website. Google is clearly trying to increase that number with the roll out of its new website builder.
Website is an extension of Google My Business, which means you will need to have a completely filled out Google My Business listing in order to make use of the tool. Google will automatically pull the information from your Google My Business listing to create the website, which can then be customized with themes, photos, and text.
If it's your first time claiming a Google My Business listing, Google will automatically invite you to begin creating an accompanying website. If you already have a listing then sign in to Google My Business, click "Manage location", and then select Website from the menu.
The intention behind the Google My Business website was to allow small businesses in developing countries the chance to create a simple, single page, mobile friendly website, that users could find out more about the business then the Google business page provided.
How to Create a Google Business Website
Log into your Google My Business Dashboard
Manage Location
Select Website in Main Menu
Select Theme
Header Image Extracted from Owner Photos
Text Edit – Headline, Description, Summary Header, Summary Body
Add Photos for Footer Images
Settings – Create Domain Name
Publish
After publishing your site, updating it is as simple as updating your Google My Business listing. Any updates made to your Google My Business listing will be automatically applied to your website.