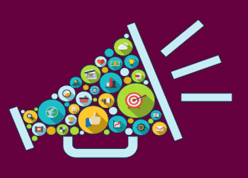 What are the types of digital marketing?
Posted by sanctifygoa in Digital Marketing, Sanctify News
27
Jun
2017
Digital Marketing is an umbrella term for the marketing broadly on internet but also includes advertising on mobile phones through SMS, WhatsApp or any third party apps on smartphones and display advertisements on Television and on digital banner or hoardings.
Top 7 Types of Digital Marketing Techniques:
SEO (Search Engine Optimization):
It is must for any website for the better visibility and ranking on Google and other search engines. Search Engine Optimization (SEO) increases the visibility of the content of a website with "on page" and "off page" optimization. SEO Services includes keyword research, competitor analysis, Google Analytic integration, webmaster tools, social media link submission, directory submission, article submission, forum postings, press releases, content rewriting, blog posting and many more.
Pay Per Click (PPC) Marketing:
It is also known as cost per click (CPC), is an online advertising model in which advertiser only pays for clicks. If no click then no fee. The PPC depends on various factors such as the competitiveness of the keywords or the target audiences on a specific location with a specific interests. The PPC bid can be manual or automatic.
Social Media Marketing (SMM):
It is the digital advertising model across social media platforms like Facebook, Instagram, Twitter, Pinterest, LinkedIn, YouTube and many others. It is the most preferred digital marketing because of the massive traffic from most of devices like desktop, laptop, mobile, tablet etc.
Online Advertising:
It is different model of advertising compared to PPC. This involves the process of advertising on third party websites. For example, you can buy ads space on popular websites by paying to the website owner for specific period.
Email Marketing:
It is the act of sending promotional or commercial emails to the user, typically to a group of people. It can be a simple marketing email or customized template based promotional emails which directs user to a particular website. One can subscribe or unsubscribe the promotional email marketing service offered by an individual or a company.
Viral Marketing:
It is a method of marketing wherein users are encouraged to share information about an individual or company specially on social media or mobile phones which creates marketing buzz by exponential growth in its reach to the large number of audiences.
Text Messaging/WhatsApp Marketing:
Bulk SMS service, SMS alerts, promotional messages and WhatsApp Marketing is the current trending digital marketing type apart from social media marketing. This marketing technique requires valid mobile number of users to send the promotional SMS, message or video directly to the exact target audience.